Cancer's Impact on the Family and How to Cope
January 19, 2022
a

t 6 pm PT via Zoom
For young adults diagnosed with cancer, life is upended, and dreams are put on hold at a time when life should just be starting. Cancer's reach extends beyond the patient to include siblings and the family as they shift to survival mode, and attention is focused on the young adult with cancer.
Siblings in particular often feel the heavyweight of the diagnosis, often masking their emotions to be strong for their family. They may feel overwhelmed as their own social and emotional needs are sidelined to take on additional chores and responsibilities at home and in school. Anxiety, anger, isolation, abandonment, resentment, and hopelessness are just some of the feelings that may arise as treatment continues.
In this 60-minute webinar, we will talk about how the diagnosis impacts the young adult patient, their siblings, and the family unit. We will also provide some key tips and tools to help reduce stress, preserve normalcy, and improve the experience during a difficult and unfamiliar time.
WATCH REPLAY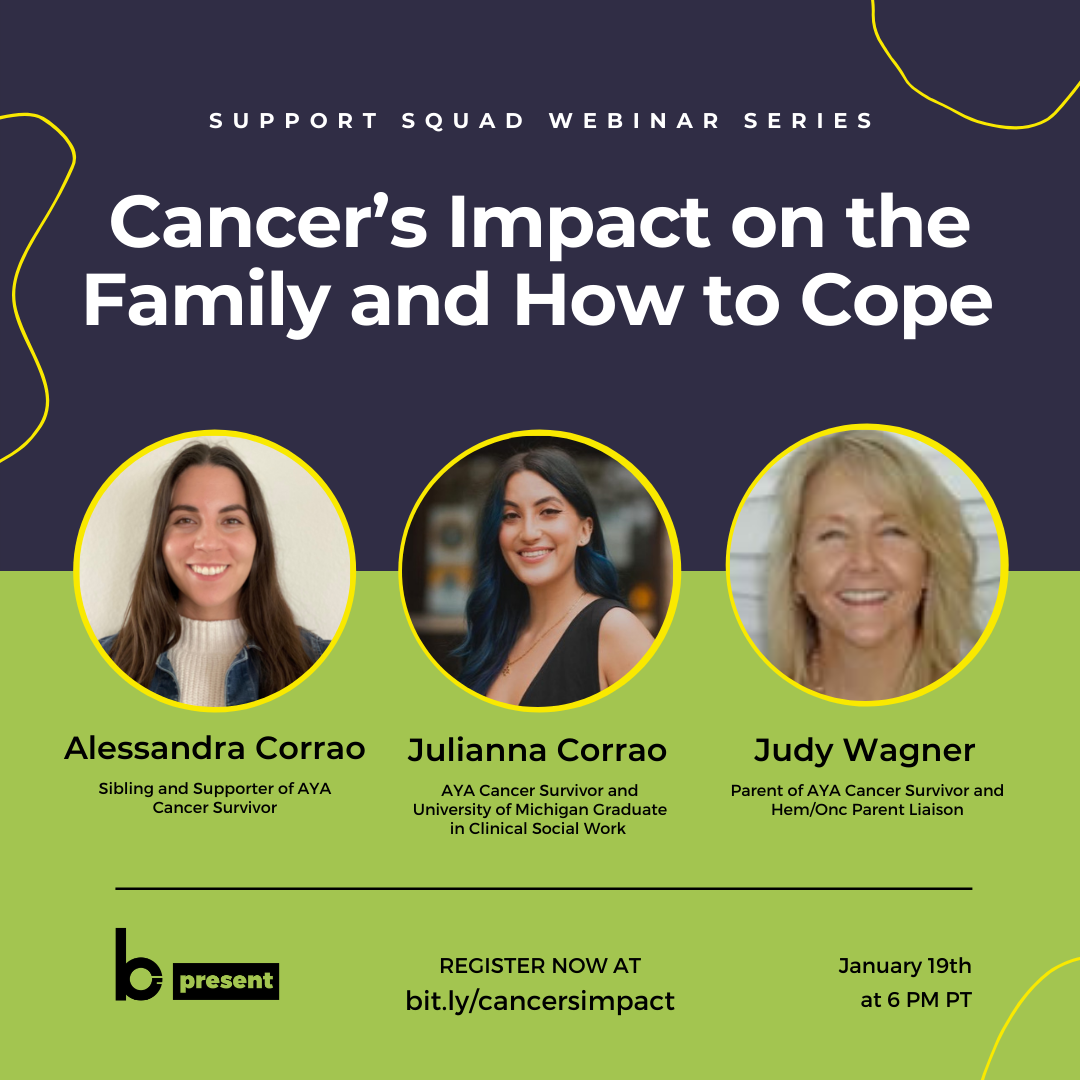 Check out our amazing panel...
Julianna Corrao

Julianna is an AYA cancer survivor and MSW graduate from the University of Michigan School of Social Work. Her specialization is in interpersonal practice in integrated health, mental health and substance abuse and has an additional certification in trauma informed practice. Julianna has worked in cancer research for a number of years and has served as a medical social work intern in two different inpatient medical units. Julianna is currently a research assistant and aids in the planning of educational webinars for AYA patients at Michigan Medicine. She is passionate about implementing evidence-based interventions and improving the mental and physical health of individuals impacted by cancer.

Alessandra Corrao

Alessandra is a sibling and supporter of an AYA cancer survivor. She is a current trainee in the Scripps Health Clinical Laboratory Scientist Training Program. Alessandra holds a B.S in Microbiology, Immunology and Molecular Genetics from the University of California, Los Angeles. She is a CA licensed medical laboratory technician that is currently employed with Rady Children's Hospital's Microbiology and Molecular Department.

Judy Wagner

Judy Wagner is no stranger to the young adult cancer experience. Her son, Jackson, was diagnosed at age 16 in 2012 with Burkitt's lymphoma, a rare form of non-Hodgkin lymphoma, and spent seven months inpatient at Rady Children's. Following that life-changing experience as parent and caregiver, Judy has dedicated her spare time to other families currently in the midst of their own cancer experience at Rady. She started her volunteer journey bringing comfort as a Bedtime Cart volunteer, and now serves on staff at Rady Children's as parent liaison. Judy brings a wealth of insights and experience both as a parent caregiver, as well as a compassionate health professional serving other childhood cancer patients and their families during a very difficult time.
The Purpose
The first time an adolescent or young adult (AYA) hears the news that their friend or loved one has been diagnosed with cancer, they may be at a loss for what this means, and more importantly, how they can be supportive during this difficult time. Young adults ages 15-35, in particular, are at a unique time in their life, and this news can hit especially hard as they put their life on hold. Receiving support from friends is vital to their quality of life and health outcomes, and they need to feel connected and supported every step of the way. But this can be a challenge for friends who may not have the experience of knowing what to do, say, or how to help.
This Support Squad Webinar Series covers a different topic every month and focuses on providing the information and resources supporters need to be present and stay connected for their loved ones throughout treatment and beyond.
Who should attend?
Webinars are free and open to the general public. Topics will focus on the unique challenges the adolescent and young adult population faces and the information needed to be a good supporter.
Although these webinars are focused on the support network, they will include perspectives from patients, survivors, health professionals, researchers, and adolescent and young adult advocates. We will all be called on for support at some point in our lives. We are stronger together when we learn from each other, so please join us.
Stay tuned for more great topics coming soon!
Have a topic you want to hear more about? Contact us.