The Journey to b-present: Three Stories of Friendship, Support, Grief and Hope
February 16, 2022
a

t 6-7 pm PT via Zoom
In the midst of their junior year at colleges across California, Kelly, Bri and Jordann received the news of Kirsten's cancer diagnosis. Join us at 6pm PT on February 16 via Zoom as they share their unique experiences as supporters, the challenges and lessons they learned along the way, how they have coped with the loss of their friend, and why they joined forces to co-found b-present.
Sign Up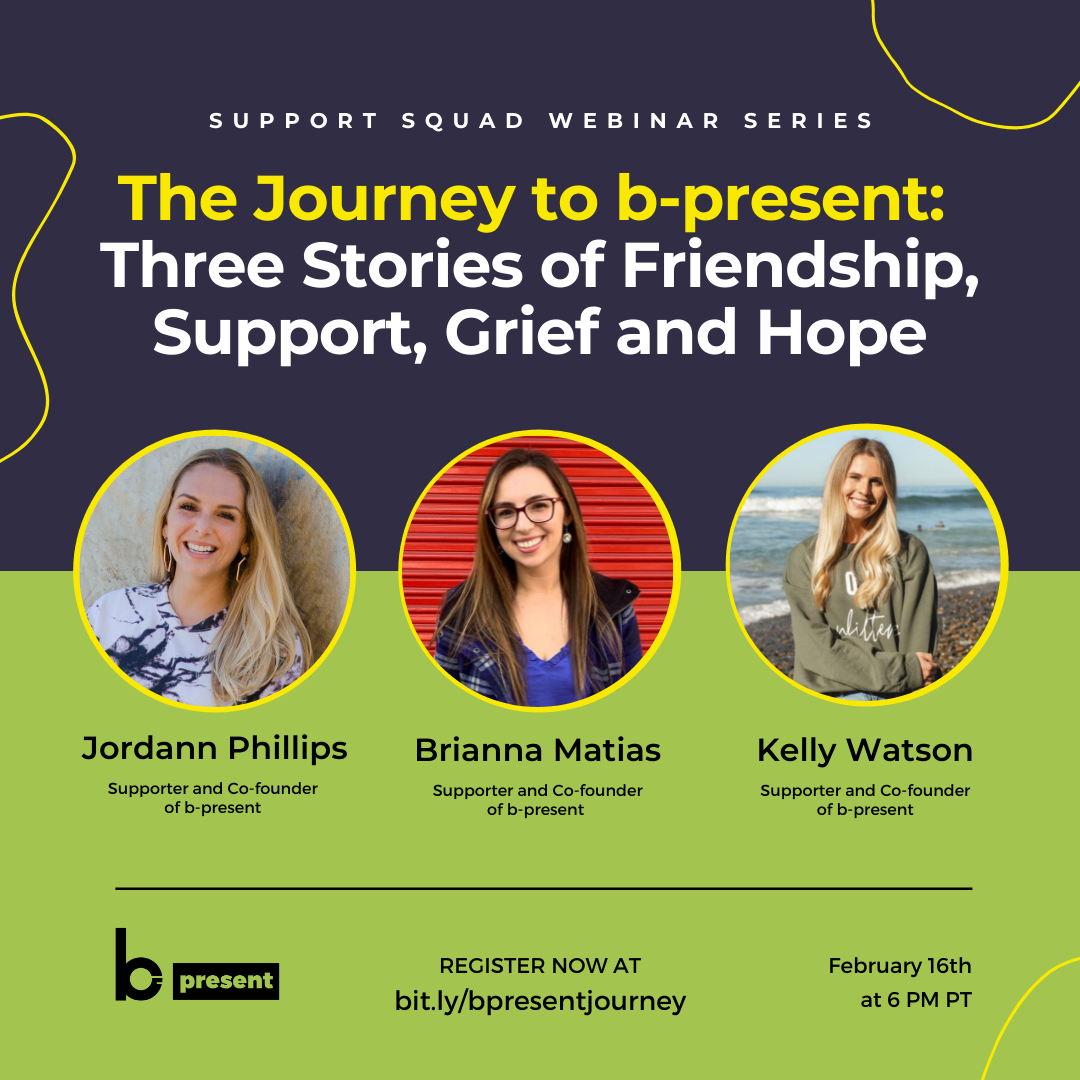 Check out our amazing panel...
Jordann Phillips

Kelly Watson

Brianna Matias
Moderated by Abby Westerman
Abby Westerman is Co-founder and CEO of b-present Foundation, established in memory of her late daughter Kirsten, who lost her battle with cancer at the age of 20. Prior to b-present, Abby was an engineer and project manager for the Navy for over 33 years. She retired in 2018 to lead b-present as a full time volunteer. She is a mom on a mission, energized by the AYA cancer community and committed to ensuring every AYA diagnosed with cancer feels connected and supported throughout treatment and beyond. She envisions a world where everyone experiences kindness and connection, especially in times of struggle.
The Purpose
The first time an adolescent or young adult (AYA) hears the news that their friend or loved one has been diagnosed with cancer, they may be at a loss for what this means, and more importantly, how they can be supportive during this difficult time. Young adults ages 15-35, in particular, are at a unique time in their life, and this news can hit especially hard as they put their life on hold. Receiving support from friends is vital to their quality of life and health outcomes, and they need to feel connected and supported every step of the way. But this can be a challenge for friends who may not have the experience of knowing what to do, say, or how to help.
This Support Squad Webinar Series covers a different topic every month and focuses on providing the information and resources supporters need to be present and stay connected for their loved ones throughout treatment and beyond.
Who should attend?
Webinars are free and open to the general public. Topics will focus on the unique challenges the adolescent and young adult population faces and the information needed to be a good supporter.
Although these webinars are focused on the support network, they will include perspectives from patients, survivors, health professionals, researchers, and adolescent and young adult advocates. We will all be called on for support at some point in our lives. We are stronger together when we learn from each other, so please join us.
Stay tuned for more great topics coming soon!
Have a topic you want to hear more about? Contact us.