When your friend gets diagnosed with cancer, it can be hard to know what to say. We all know that cancer affects everyone around the patient, not just the patient. But when you center yourself in conversations about someone else's cancer, you're likely to offend them inadvertently. I recently learned about a concept that helps handle crises and I think all supporters of cancer patients should become comfortable with it: Ring Theory.
The Ring Theory
Ring Theory was a concept developed by a psychologist named Susan Silk when she had breast cancer. She found others around her consistently centering themselves in conversations about her cancer, something most of us with cancer have experienced. Through this experience, she developed Ring Theory as a technique to help others avoid making the same mistakes, and it applies to all crises you may encounter, not just cancer.
Start by drawing a small circle in the middle of a page and write the name of the person dealing with the crisis in the center. Then, draw another circle around that circle and write the name(s) of the people closest to the person in the center. Continue drawing concentric circles and writing names inside them as much as necessary, putting closer people toward the center and more distant friends and relatives in the larger outside circles. Now that you have your concentric circles, you have only a few simple rules: 
The person in the center is the only one who can complain about whatever they want, to whoever they want. 

The people in outer circles can complain as well, but only to people in the larger circles. 

If you're talking to someone whose circle is smaller than yours, you are only allowed to provide help and support. 
In essence, comfort goes inwards, and dumping goes outwards.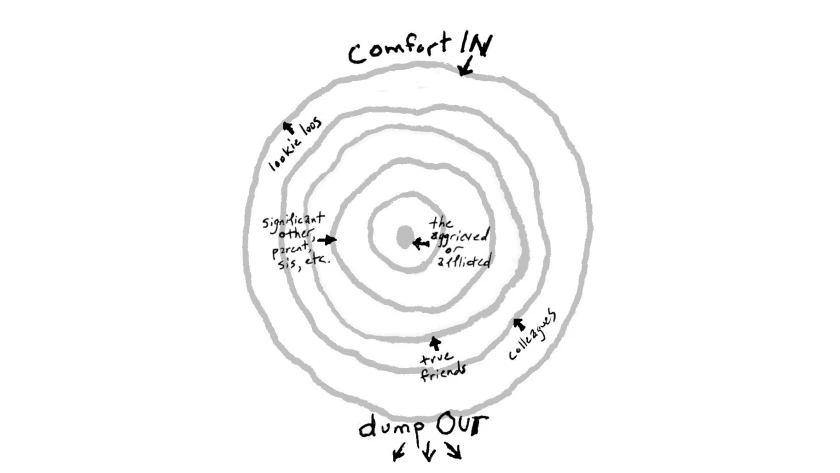 Illustration by Wes Bausmith for the Los Angeles Times
This sounds very simple and something that everyone should know, but when a crisis occurs with someone you love, it's often difficult to remember that you're not in the center of it all. We all know that you would never tell a cancer patient that you weren't prepared for how sick they look, but would you remember not to say that to their significant other, parent, or best friend? Maybe not. Ring Theory helps us put into perspective how the crisis affects everyone and gives you an idea of who you can dump your feelings on versus who you should provide help and support to. 
Want more?